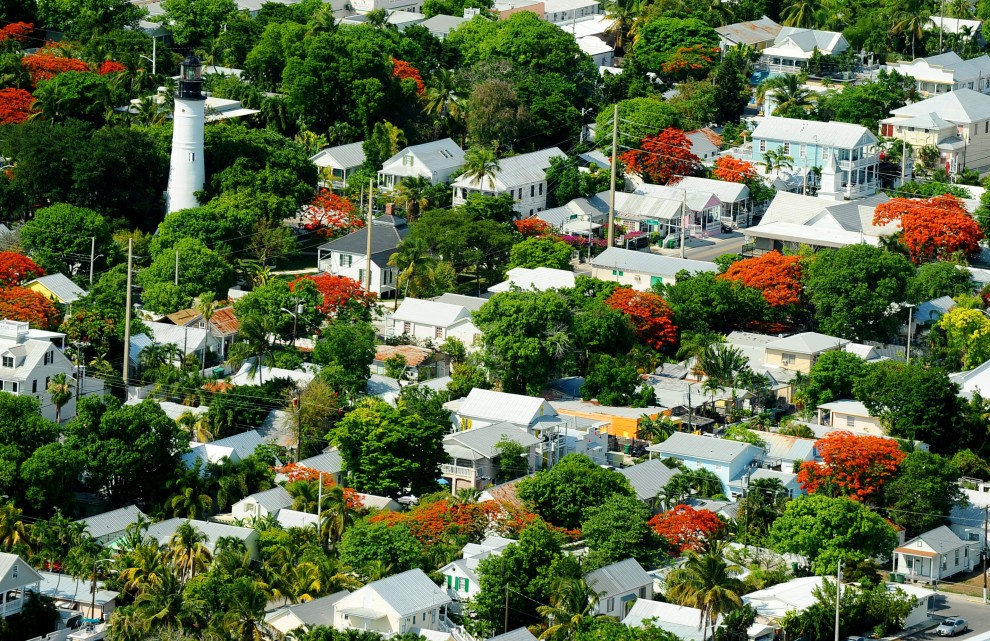 Homes for Sale in Key West
Key West, Florida is a unique island city, situated on the southernmost of the Florida Keys at the end of US Highway 1. A slice of Caribbean paradise set in clear emerald waters, bathed by year-round sunshine, and populated by a diverse and exotic mix of people, Key West is a world away from mainstream American life yet only a few hours by car from the Miami metro area and the US Mainland. Whether you are looking for a vacation home, a permanent residence, or a solid real estate investment, Key West offers the best in luxury tropical living in an island resort location renowned for endless opportunities to enjoy sun, sand and sea, arts and culture, entertainment, recreation, and simple relaxation.
Key West real estate is some of America's most coveted, and island residences run the gamut from palatial tropical garden estates through ultra-upscale private island getaways to simple condominiums and shorefront vacation home lots. Private gated communities, unique historical neighborhoods, and family residential areas all share space in this compact urban area. Variety and diversity are Key West hallmarks that also extend to the real estate market, with 11 distinct neighborhoods offering prospective buyers a surprisingly broad range of choicesconsidering the relatively tiny size of the city at a population of only 25,550 people.
A feature unique to the Key West property market is a prevalence of historical architectural styles, many represented by original structures over 100 years old. Over 3,000 wooden buildings dating from about 1886 to 1912 can be found in the Old Town district. This collection of 19th century structures is the largest historical district on the National Register of Historic Places, and it includes a diversity of building styles that represents a historical heritage of constantly changing and mixing cultural and economic influences.
Modern settlement began in 1832 with Cuban immigrants, New England natives, and Bahamian fishermen, spongers, and wreckers all building homes for sale in Key West on the island's western side. Called "Conch Houses", these structuresshowed the influence of Caribbean adaptations of New England sea coast Greek Revival building traditions and African and Haitian Gulf Coast shotgun houses. Deep, covered front porches, overhanging roofs, louvered window shutters, and attic ventilation scuttles were adaptations to life in a hot climate before air conditioning.Classic white-painted exteriors were common, as well as colorful pastels reflecting Caribbean influences.Near the end of the 19th century, wealthy sea captains and cigar makers built large mansions with Victorian architectural sensibilities represented by turreted roofs and widow's walks, gingerbread accents, and spindles used for exterior decoration.
In the neighborhoods surrounding Old Town, these classic Key West styles are often replicated in modern construction, while the Midtown and New Town districts offer many examples of typical Florida concrete block structure as well as single-level ranch and bungalow style homes. And scattered throughout the neighborhoods are quite a few homes that feature mid-20th century modern architectural designs.
Choosing from this bounty calls for expert help. Berkshire Hathaway HomeServices Knight & Gardner Realty is the island's oldest real estate company and one of the most well-respected realty firms in the Keys. We are your key to Key West Real Estate. Browse our extensive listings, and when you are ready to grab a slice of paradise, we will be your guides to the beauty, luxury and variety of Key West island homes.