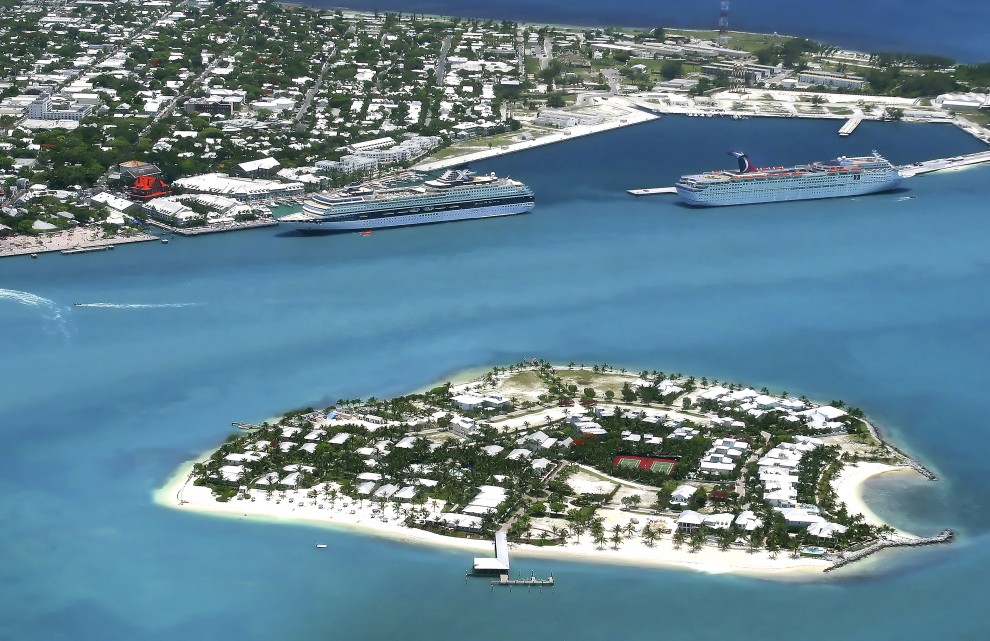 Homes for Sale on Sunset Key, Key West Florida
Imagine a private tropical island ringed by white sand beaches, set in clear emerald waters, secluded and quiet yet replete with world-class luxury. Now place your island only 10 minutes from one of America's most fun and exciting party towns. The island is Sunset Key, a 27-acre patch of coral sand set just 500 yards off the northwest shoreline of Key West and the location of some of the most exclusive luxury retreats in the Florida Keys.
Sunset Key was officially designated as Tank Island when the US Navy built it of dredge material produced while opening shipping and submarine channels for the Key West Naval Base, which occupied the western end of Key West from 1822 until 1974. Tank Island was originally planned as a fuel depot, but only two tanks had been constructed when plans changed, and they were never filled. The island sat deserted until a private developer bought it from the government at auction in 1986. The unused fuel pipes running to Key West were used for water, utility and sewer connections, additional power cables were laid alongside the pipes, and the island began to be developed as a luxury residential and resort enclave.
Renamed Sunset Key in 1994, the island is now jointly owned by its private homeowners and the Westin Key West Resort and Marina. Sunset Key is accessible only by boat, and with just 48 existing single family homes for sale Key West Florida, 21 vacant lots and the 40 guest cottages of the Sunset Key Resort on the island, crowding will never be a problem. The residences are placed along car-free brick-paved roads lined with tall coconut palms and lit at night with lanterns. Homeowners and guests park in the Westin Key West Resort parking garage on Front Street, catch the 10-minute shuttle boat ride over to the Sunset Key Pier, then walk, bike or use golf carts to get around.
The home designs are modern takes on Key West tropical Victorian architecture. Broad porches and shady overhanging roofs present an island casual look, while interiors feature the finest in high-end comfort, convenience and luxury. Sunset Key homeowners enjoy a complete resort lifestyle, with amenities that include four white sand beaches, tennis courts, a spa, gourmet dining with home delivery options, a beachfront restaurant with full bar, concierge services, docking for boats up to 70', and more. Enjoy days of relaxing peace and quiet and spectacular sunsets balanced with the bustle and excitement of Duval Street just a short ride away on the 24-hour shuttle launch.
Life on Sunset Key is for those who search for something a cut above the ordinary. Whether you are looking for the ultimate family vacation and gathering spot, an impressive destination for entertaining guests or clients, a resort property investment, or simply a relaxing, secluded place to work and rest, Sunset Key should be on your list of places to visit. Contact Berkshire Hathaway HomeServices Knight & Gardner Realty for a tour of these unique resort island homes, and make Sunset Key your private island.